KDS Lavu and KDS Pro
How it works
Simply connect the iPad device (with the KDS Lavu app installed) on to your local network, then configure your Point of Sale to deliver your kitchen tickets to the 'KDS Lavu' printer and say goodbye to messy printer paper! Take a look at our detailed setup video to get an idea of how our KDS fits into the equation.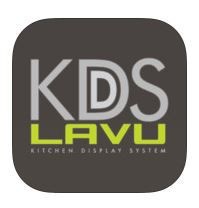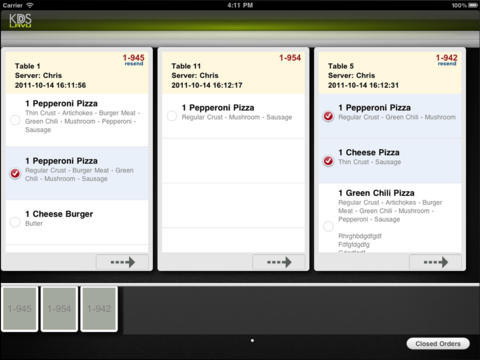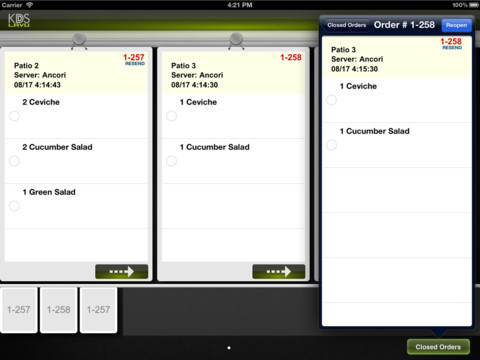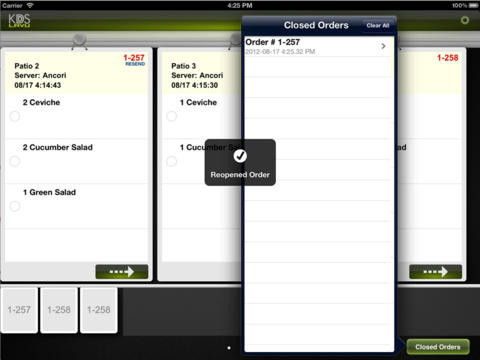 Features
Tired of dealing with those costly kitchen impact printers? Take control of your kitchen, bar, or barista operations with KDS Lavu!
Late order notifications
Rich Apple iOS capabilities
Closed order tracking
Real time communication
Local network based system (No internet connection needed)
Integration
KDS Lavu's stylish iOS touch screen display makes your process simple and efficient. KDS Lavu can be extended to display on wireless TV monitors should that fulfill your needs.
Point of Sale
KDS Lavu works seamlessly with POSLavu (v.1.7+), the revolutionary Point of Sale system that takes full advantage of the powerful technology built into Apple's iPad/iPod Touch, and iPhone. The Kitchen Display System connects directly with POSLavu via high-speed 802.11x WiFi!
Lavu Kitchen Display System (KDS) Pro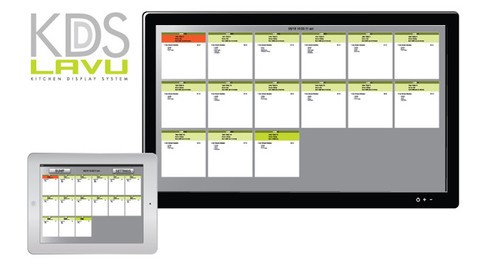 KDS Pro is a fully featured kitchen display system. KDS Pro allows you to display up to 18 tickets at a time on any display with an HDMI input, controlled by either a traditional bump bar or our state of the are iPad control.
Lavu KDS Pro is everything restaurants are looking for in a kitchen display system. It's been crafted to provide the information that's needed without sacrificing form or function.
What is it?
Lavu KDS Pro is the most complete kitchen display system designed to work exclusively with the Lavu iPad POS system. Send order tickets from any iOS device runningPOSLavu Client and receive them at any KDS Pro station. The Lavu KDS Pro sets itself apart from the existing KDS Lavu in that it is not an iOS native application. The KDS Lavuapplication running on an iPad is inherently limited by the size of the screen. In our experience, the small iPad screen tends not to be large enough for the average kitchen to effectively manage many orders at one time. As a result, Lavu developed Lavu KDS Pro to broadcast kitchen tickets onto any size monitor with an HDMI connection. Paired with a heavy duty bump bar control, Lavu KDS Pro enables you to completely manage your active and inactive order tickets easily and efficiently.
Features
Large Screen

Use any size monitor with an HDMI connection
Easy to read

Customizable Layout

Choose from a large range of layouts
View up to 18 tickets at once

Paperless & Environmentally Friendly

Replace your kitchen printers
Never buy kitchen paper or ribbon again!

Easy to Use

Setup is easy! We'll provide you with all of the information you need to get going
Clearly marked and color coded bump bar

Improved Communication

Incorporate multiple KDS at your various food/beverage stations
Mirror KDS for expo, food runner or front of house staff to view whats going on in the kitchen

Ticket Timer

Begins counting up once the ticket is sent from POS Lavu

Time initiated ticket status indicators

Green: 0-59 seconds
Gray: 1-6 minutes
Red: 6+ minutes

Multiple item status indicators

Individual items can be bumped from white to green to blue

Time initiated ticket status indicators

Green: 0-59 seconds
Gray: 1-6 minutes
Red: 6+ minutes

Requirements

Lavu KDS Pro requires Lavu Local Server
Lavu KDS controller must be on the local area network. A connection back to the same LAN that LLS is operating on is required for each KDS controller.

Hardware

Lavu KDS Controller – One is needed for each Monitor: controller or viewer
Monitor – HDMI ready

If you want to know more about our other Point of Sale services please don't hesitate to get in touch. The Finland Technology Solutions team are always here to help.